Could your organization use a steady stream of revenue without having to increase the number of tasks you are already performing each day?  Consider the benefits of becoming a Heritage Scenes Affiliate.
How does it work?
 Becoming an affiliate partner is easy. To apply, simply fill out the form at the bottom of the page.
The formula for success works like this: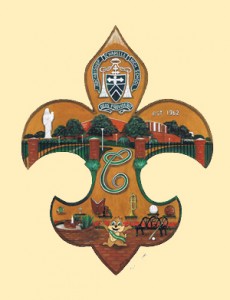 Production (what we agree to do) + Promotion (what you agree to do with our help and guidance) = Sustainable "no hassle" revenue

Production – Local artist, Bill Habeney of Heritage Scenes, will produce a beautiful piece of highly coveted artwork that captures the essence of your cherished institution.  Each year your organization will be provided with a beautiful high quality framed Giclee to be used for your annual fundraising event as well as all of the digital images necessary to promote the prints through your existing communication network (ie. Website, e-newsletters, etc…)
See sample School Art or Church Art.
Promotion – Once you are registered, your institution will be given a promotional link which should be used to market and promote the custom print or any of the products in the online store.  Through your regular communication channels you will direct all purchases to the Heritage Scenes website and we will handle all of the order processing. 
Each time your affiliate link is used to purchase ANY ITEM from our site (not just the custom print of your school), we will send you a monthly check for 20% of all sales.  It's that easy!
Does it really make money?
Here's what a band parent had to say about partnering with Heritage Scenes:
"I was tasked with raising money to help buy uniforms for my son's band team.  After struggling for months we came across a painting Bill created of Holy Cross School.  The demand for the way he uniquely captures the essence of our school was truly amazing which made selling them easy.  Our affiliation with Heritage Scenes made so many things possible for our marching band.  Thanks!"  –  Nancy Brunet
How much effort do we have to put into promoting the site?
The amazing thing about our affiliate program is your staff does not need to do anything more than they already do.  We will provide best practice ideas to help you incorporate the promotional links into your already existing communications.
Are you ready to raise funds?
Apply now!