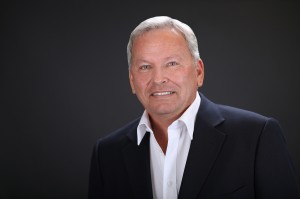 Bill was born and raised in New Orleans. He graduated from St. Joseph grammar school on S. Roman Street in 1966 and entered the minor seminary for the Vincentian Fathers in Beaumont Texas that August. In 1974, after deciding to leave the seminary for a different life, he continued studying at Loyola night school while working at South Central Bell during the day.
He and Judy met in 1978 and were married the following year. They have three grown children.  Both of their families are from St. Joseph Parish on Tulane Avenue.  At 10 years old, Bill's grandfather, Dan Collins, served the first Mass celebrated in the new Church in 1892. In 1975, Judy's uncle, Lloyd Celentano, began a campaign to save the Church from demolition by raising funds and having it declared a Historic Landmark.
After retiring from AT&T in 2009, Bill decided to devote more of his free time to painting the places that meant so much to the both of them. In 2010, the year the Saints won their first Super Bowl, they founded Heritage Scenes. Nobody has been more humbled and surprised by its success than Bill and Judy. Originally their mission was to capture the beautiful images that comprised the rich heritage of a New Orleans past. Today through the launch of their affiliate program they are looking to enrich the future of the institutions that make them what they are.
He finds it important to preserve in some small way the memory of his youth in paintings such as Pontchartrain Beach, Christmas on Canal Street, Mardi Gras, and the Canal Streetcar at Rampart showing the Saenger and the old Woolworth's building.
The older High School paintings reflect a time of great pride and spirit for so many New Orleanians. A glimpse of each school is reflected in each painting.
"Tiger over New Orleans" is a painting by Celeste Habeney. This was done for her sister's wedding to be presented as a favor to all the invited guests. Inspired by his daughter's talent with the paints, Bill decided to take his talent more seriously. In 2009, he got out the canvas and began painting Fleur de Lis scenes that he thought would capture the hearts of people from the New Orleans area.
He continues to draw in black and white old familiar sights such as churches, parks, hospitals and other memorable places. But the Fleur de Lis paintings have become his trademark. Since the Fleur de Lis has been around for over 600 years, he feels people will always welcome it into their lives, especially if it holds some special place or time for them within its border.